AUTO REPAIR SERVICES AND TIRE SHOP
Shop for All of Your Auto Repair Services & Vehicle Maintenance Needs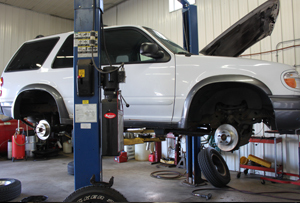 OIL CHANGE
Need Oil Changes?
Most vehicles need an oil change every 3,000 to 5000 miles according to its manufacturer's specifications.




AIR CONDITIONING REPAIR
Need Air Conditioner Repair?
PREVENTATIVE AUTO MAINTENANCE
Frustrated with your car maintenance?
Our auto maintenance team is made up of qualified technicians who are trained to know every part of your car to make it as safe and enjoyable to drive.

WHEEL ALIGNMENT
Wheel Alignment troubles? Get a Car Alignment Service!

BRAKE SERVICES
Need a Brake Repair Inspection?

Nothing on a car is much more important than its brakes so brake repair or brake service should be first priority task in car maintenance.




TUNE UP CAR
Need a tune-up? Car tune-ups are affordable!